Scott wanted to make his enchiladas, but we didn't have all of the ingredients, so we made these Stacked Chicken Enchiladas instead with layers of chicken, tortillas, sauce and cheese. This recipe could be called Mexican Lasagna or even King Ranch Chicken, all with variations. If you love Mexican food, and ooey gooey, cheesy chicken, you will love this dish. Because the tortillas are layered instead of rolled, they take less time than traditional enchiladas. This is a healthier version of Enchiladas, because the enchiladas aren't fried, they are just layered.
You start making this dish by browning the chicken, either boneless, skinless thighs or breasts, about two lbs., with garlic, cumin, red pepper, and onion in a skillet, until lightly brown, and the finish in the oven topped with crushed tomatoes, sauteed onion, and garlic. When chicken is done, cool, and shred, and mix chicken and tomatoes.
Then you
combine cilantro, lime juice, and salsa verde or regular salsa;
Spread salsa mixture in the bottom of the casserole dish. Start to layer the tortillas, chicken mixture, salasa mixture, and cheese. I used corn tortillas, but you could use flour tortillas, as well. I also used 2% Mexican blend cheese, and doubled the cheese, sprinkling on top of the layers, not just the final tortilla of the casserole. Pop in the oven for 15 -20 minutes, until golden. This casserole has all of the enchilada flavors in less time. You can easily make this a meatless meal by subbing in beans, black beans, or pinto beans. for the chicken. Enjoy!
Stacked Chicken Enchiladas
, Adapted from Cooking Light
2 tablespoons canola oil

8 skinless, boneless chicken thighs (about 2 pounds)

I used 2 lbs chicken breasts

1 teaspoon ground cumin

1/2 teaspoon kosher salt

1/4 teaspoon ground red pepper

2 cups chopped white onion

8 garlic cloves, minced

I only used 4 garlic clovs

1 (15-ounce) can organic whole peeled tomatoes, undrained and crushed

1 cup chopped fresh cilantro, divided

3 tablespoons fresh lime juice

1 (7-ounce) can salsa verde

or regular salsa

Cooking spray

12 (6-inch) corn tortillas

3 ounces shredded pepper-Jack cheese (about 3/4 cup)

I doubled the cheese
6 tablespoons Mexican crema

or sour cream
Heat a large skillet over medium-high heat. Add oil to pan; swirl to coat. Sprinkle both sides of chicken evenly with cumin, salt, and red pepper. Add chicken to pan; sauté 3 minutes. Turn chicken over, and place in the preheated roasting pan. Add onion, garlic, and tomatoes to pan; bake at 425° for 15 minutes or until chicken is done. Cool. Shred chicken; toss with tomato mixture.

Combine 3/4 cup cilantro, juice, and salsa verde or regular salsa; spread 1/4 cup salsa mixture in the bottom of an 11 x 7-inch glass or ceramic baking dish coated with cooking spray. Top with 4 overlapping tortillas, half of chicken mixture, and 1/4 cup salsa mixture. Repeat layers. Top with remaining 4 tortillas and remaining salsa mixture; sprinkle evenly with cheese. Bake at 425° for 15 minutes or until golden; sprinkle with remaining 1/4 cup cilantro. Top each serving with 1 tablespoon crema or sour cream


The Stacked chicken Enchiladas are featured on The Country Cook's Weekend Potluck #111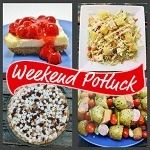 l linked up my recipe to Brandie@The Country Cook's Weekend Potluck #110
Stop by and say Hi to Brandie!