Last weekend we had a Cheese and Chocolate Fondue Party. For those of you that don't remember, or never heard, Fondue pots and parties were all the rage in 70's and 80's. Fondue is a French, Swiss or Italian dish of melted cheese served in a communal pot over a portable stove, and eaten by dipping long-stemmed forks with bread into the cheese, and placing them on a plate, and eaten with another fork. No double Dipping! Fondue can also be melted chocolate, Fondue au Chocolat or Fondue with meat or shrimp. cooked in hot oil, then dipped in various sauces. My first fondue pot was Harvest Gold, and you had to use sterno, canned heat) for heat. I now have an electric fondue pot, which makes all of the difference in the world.
A Fondue party is a relaxing evening of eating various courses throughout the evening. We choose to do Cheese and Chocolate fondue, and no meat, because Scott doesn't like the meat cooked in the oil. So between the cheese and chocolate fondue's We had Sauteed Shrimp withe
Honey Orange Sauce
recipe from the Pork Tenderloin, which was so good with Shrimp.
We had a
Swiss Cheese
Fondue made with white wine. I used all Swiss Cheese, and didn't add the Kirsch. (Sorry, there are no pictures. It's very difficult to get a decent picture in my home at night.) We dipped cubes of French Bread, mushrooms, blanched cauliflower, and broccoli, and par cooked baby red potatoes. This cheese fondue was so good and filling. Then we had the shrimp. Onto Fondue au Chocolat.
We used Ina Garten's
Chocolate Orange Fondue recipe
with Grand Marnier, but of course. I followed her recipe to T. Oh, My! it was out of this world good. I used a combo of semi sweet amd dark chocolate for the fondue. For dipping we used strawberries which are a must, banana chunks, marshmallows and, Raspberry Swirled Coffee Cake. We also had fresh pineapple, which you can't dip into the chocolate, because the acid from the pinapple would degrade the chocolate. We spooned the chocolate over the pineapple. The above pic is of a marshmallow dipped in the chocolate and rolled in crushed graham crackers, for an Inside Out S'More! Now about the Raspberry Swirled Coffee Cake.
I wanted to make a dense cake for the Chocolate Fondue, so the cake wouln't crumble on the fork. I decided to make my Coffee cake with Greek Yogurt in the 9 x 9 pan but wanted a little more flavor, so I swirled in some Raspberry Jam. The jam made this wonderful coffee cake, even better. I didin't think that it was possible, but it was. Then dip the Raspberry Coffee cake in the Chocolate Orange Fondue, and it's pure heaven. We had a wonderful evening, and a good time was had by all. We were all stuffed. You must try this one. Enjoy!
Raspberry Swirled Coffee Cake with Greek Yogurt
Adapted from Better Homes and Gardens Cookbook Circa1967
1/2 cup butter

1 cup granulated sugar

2 eggs

1 teaspoon vanilla

1 cup plain or raspberry Greek yogurt

2 cups all-purpose flour, sift before measuring

1 1/2 teaspoons baking powder

1 teaspoon baking soda

1/4 teaspoon salt

1/2 cup Raspberry Jam
Cream butter and 1 cup sugar until light and fluffy. Beat in eggs and vanilla. Blend in the Greek yogurt. Sift flour, baking powder, soda, and salt into another bowl; blend into the creamed mixture, mixing well.
Spread batter in a greased and floured 9-inch square pan, or bundt pan.. Spoon dollops of jam over batter in pan.

Swirl jam into coffee cake with tip of a knife.
Bake at 350° for 35-40 minutes, until pick, inserted in middle, comes out clean. Cool in pan 10-15 min. then remove pan and put on rack.
l linked up my recipe to Brandie@The Country Cook's Weekend Potluck #57
Stop by and say Hi to Brandie!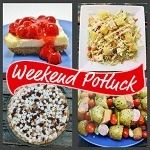 =